London, 31st July 2017
Our Junior Account Executive Marcel Klebba reflects on his first month behind the doors of M&C Saatchi PR. He talks overflowing inboxes, media relations and the need to be driven by passion to succeed.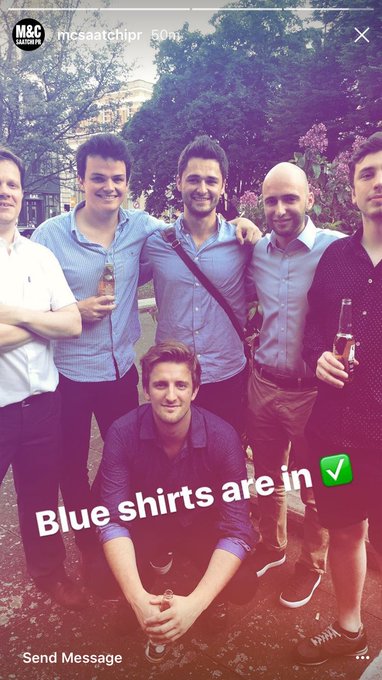 It really struck me the other day, when I was called 'a practitioner.' After all the networking, blogging, and studying for a degree in public relations, I've finally made it into the industry! Last week marked my first month in the industry. Here's what I have learnt so far.
 #1 PR IS ALL ABOUT PEOPLE
It's a known fact that public relations is a people business. Starting from colleagues and bosses, through clients, to media representatives in the form of journalists. Building relationships with them all is crucial. Not only for one's career, but also for the organisations we work with and work for. Even though PR seems like a place for extroverts, all types of people are needed here.
My takeout: Some say I'm decent at networking. In fact, I do enjoy meeting new people. I found that building rapport with journalists is a rewarding part of the job.
#2 YOU GET A LOT OF EMAILS
I wasn't aware of the fact that you really need to be a master of your inbox. And I've already managed to tackle this on my blog. I've shared some of my insights, and also reached out to my network and asked how they manage their waterfall of emails. You might be receiving hundreds of emails every day. All of them need to be seen, some of them will need to get a reply, other ones will require taking further actions.
My takeout: Learning how to manage email inbox is the key to productivity. You can't afford to be stuck in your own internal inbox for too long when you should be emailing on behalf of clients.
#3 YOU HAVE TO WRITE WELL
I've always been told that writing is one of the most crucial skills in PR. I never realised how much this job would actually be about writing. Press releases, by-lines, blogs, social media posts, and even emails. All of the above need to be in flawless grammar and written with a shipshape flow.
My takeout: Writing copy for clients can be challenging, but I definitely enjoy it. This also helps in my lifelong quest for sharp writing skills.
#4 YOU HAVE TO STAY CURIOUS
The beauty of working for a PR agency is being exposed to the different types of work — it can be a software client, niche legal specialists or a well-known telecommunications retailer. In order to deliver the best work, you need to do your research, read a lot, and have a thirst for knowledge. Staying on top of current affairs is significant, too. You have to know the headlines if you want to put your clients amongst them.
My takeout: I love the fact that I can learn every day and never get bored.
#5 YOUR TIME MANAGEMENT SKILLS NEED TO BE ON POINT
Another aspect of agency life is how busy it can get. Managing multiple accounts and many tasks simultaneously requires good time management skills. To-do lists, colour coding, making the best of the email invites are some of the solutions.
My takeout: The fast pace means I will learn much more, much faster.
#6 PR IS FUN
One of my favourite tweeters, Mike Love, has once said (indirect quote!) that "PR is fun, not work." And it's true. This is a satisfying profession in many respects. Writers can thrive. People with media relations skills (and people skills generally) will excel. Whoever loves creativity will love working in PR.
My takeout: Waking up in the morning and being excited about the challenges of the day is a splendid feeling.
#7 IN ORDER TO SUCCEED, YOU NEED TO BE DRIVEN BY PASSION
We, at M&C Saatchi PR, are Driven by Passion. Clients are at the centre of our universe and we organise the agency around giving them what they need. It means that everyone works on the projects they believe in and are, well, passionate about. If you're passionate about something, you will enjoy doing it. It won't even feel like work. This approach works for M&C really well. I also crashed a party on my second day (sick!) and took the award from Andy Parsons for the CIPR Outstanding Large Consultancy of the Year (I didn't quite earn it, and am not trying to take a credit for it, but it was a good second day).
My takeout: As long as you enjoy what you're doing, you'll deliver great work.
#8 I'VE CHOSEN THE RIGHT PATH
I'm not going to lie. I had my doubts. Was my PR university course worthwhile? Was this career right for me? Did I waste three years of my life just to find out I hate public relations? One month is not a long period of time, but it showed me that I really enjoy being in the place, where the newspapers that are coming in the morning are of huge significance for my clients. And I can finally call myself a public relations practitioner! You'll have to admit that it does have a nice ring to it.
A huge thank you to M&C Saatchi PR, and especially the Corporate team, for having me.
—
This blog was first published on http://marcelkl.co.uk/ (17th July 2017).